News, Information, Opportunities & Benefits
March 25, 2016
Help shape the future health of Burke County. 
Take the 2016 Community Health Needs Assessment 
Survey from the Burke Wellness Initiative.
Offers Scholarships, Pay and Benefits, State Recognition
Continental Expands Apprenticeship Program 
Continental Corporation's Morganton operations are expanding its Apprenticeship program to include more eligible western North Carolina students while offering educational cost incentives including paid books and tuition.
Students entering the Continental Apprenticeship program
receive a full-time job, on-the-job training, a debt-free college education and a North Carolina Department of Commerce Journeyman's Certificate.
Eligible candidates must be at least 18-years-old, have a 3.0 GPA, an excellent attendance record with their high school, be interested in high-technology manufacturing, possess strong technical skills and be self motivated. Continental's Apprenticeship is being expanded to include students from public, private and home schools in the North Carolina counties of Burke, Caldwell, Rutherford, Catawba and McDowell.
"This is an exciting expansion for local communities and students," said Vincent Wilson, Continental Business Systems Manager, who supervises the apprenticeship program. "By collaborating with our local high schools and community colleges to identify and recruit eligible students, we are filling our employment needs and are able to offer local students exciting high-tech, good-paying and stable jobs that have a promising future, as well as helping the local economies by hiring local students."
The expanded Apprenticeship Program is also conducted in conjunction with the North Carolina Department of Commerce. At the end of their successful completion of the training, participants earn a North Carolina Journeyman's certificate as well as a U.S. Department of Labor certificate.
"We welcome this job-training program and know it will continue to sharpen the skills of our workforce," said N.C. Commerce Secretary Sharon Decker. "The Apprenticeship Program will become a valuable part of our strategy to strengthen the state economy and close the skills gap that many industries are experiencing."
Continental develops intelligent technologies for transporting people and their goods. As a reliable partner, the international automotive supplier, tire manufacturer, and industrial partner provides sustainable, safe, comfortable, individual, and affordable solutions. In 2015, the corporation generated preliminary sales of approximately €39.2 billion with its five divisions: Chassis & Safety, Interior, Powertrain, Tires, and ContiTech. Continental employs more than 208,000 people in 53 countries.
To learn more about careers at Continental, please click
here.
Award-Winning Brewery to Expand to Second Site
Foothills Conservancy, Fonta Flora Brewery Partner 
to Protect Historic Whipporwill Dairy Farm 
Whippoorwill Dairy Farm, a beautiful, historic Burke County farm, will soon be permanently protected thanks to a unique partnership between Foothills Conservancy of North Carolina and Fonta Flora Brewery.
With funding from private
donors and the N.C. Clean Water Management Trust Fund, Foothills Conservancy has purchased the majority of the scenic farm, approximately 40 acres which border Paddy's Creek, and will donate the land to the adjoining Lake James State Park later this year.
Fonta Flora brewer and co-owner Todd Boera refers to the project as "a dream come true.""[Fonta Flora co-owner] Mark Bennett and I spend a lot of time roaming around Morganton on bicycles. I kept riding past the Whippoorwill Dairy property and thinking it was so gorgeous – a dream for anyone interested in historic buildings and agriculture. We knew we wanted to build our second brewery out in the country, but Whippoorwill always seemed like an unattainable dream. Thanks to our partnership with Foothills Conservancy it has become a reality." he said.
Fonta Flora Brewery in Morganton has purchased 8 acres of the former dairy farm fronting Highway 126, including most of the old stacked-stone barns and structures, to expand and create a farmhouse brewery and will convey a permanent conservation easement on the property to Foothills Conservancy.
Fonta Flora plans to restore the buildings, with a priority of keeping the old stone walls intact. The walls are built of river stones from Paddy's Creek, which flows along the back of the property before draining into Lake James. The new 15 barrel (Bbl) brew house will have 30 Bbl fermentation and conditioning tanks that will allow Fonta Flora to brew approximately 2,500 Bbls during the first year of production. This will roughly quadruple their current production capacity.
The farm's backdrop is the beautiful scenery of Shortoff Mountain, the Linville Gorge and Pisgah National Forest. The parcel that will be added to Lake James State Park also contains an important piece of American history: a segment of the National Park Service's Overmountain Victory National Historic Trail.
"Permanent protection of the Whippoorwill Dairy Farm is a wonderful success story- it's one of the most historic and scenic sections of the landscape around Lake James," says Andrew Kota, Foothills Conservancy stewardship director.  "Adding most of the farm to Lake James State Park will extend protection and public access along Paddy's Creek. This acquisition effort is a great example of the creative collaborations that can form around protecting our region's special places. Fonta Flora's mission is focused on agriculture and sustainability and depends upon clean water, so having their brewery expand to this historic land is a natural fit."
 "This property will be a valuable addition to Lake James State Park, and just as valuable are the community partnerships we've been able to forge in developing this park," said Mike Murphy, state parks director. "The collaboration of  Foothills Conservancy and Fonta Flora Brewery is a great example of creative thinking for conservation."
Establishing its new brewing operation at Whippoorwill Dairy is especially meaningful for the Morganton-based brewery because of its namesake, the Fonta Flora sharecropping community that existed along the banks of the Linville River in the late 1800s, before being flooded to create Lake James."We adopted this name to honor and revive this part of our region's history," notes Boera. "Now we have an opportunity to put our second brewery right near where the original Fonta Flora settlement existed more than a century ago."
Fonta Flora's brewing, bottling and packaging will take place in the main barn, and barrel conditioning will eventually be housed within the former milking parlor building. In keeping with its commitment to using local Appalachian flora in its brews, the brewery has plans for gardens and orchards on the property to cultivate harder-to-find ingredients like pawpaw and persimmons, as well as herbs, vegetables and berries.
"The addition of a farmhouse brewery at Whippoorwill dovetails well with Fonta Flora's overall focus on local and sustainable ingredients," says co-owner David Bennett.
Funding for Foothills Conservancy's Whippoorwill purchase included a challenge contribution of $172,000 from Fred and Alice Stanback, which required a two-to-one match. The match was met with a generous leadership gift from George and Ann Costello combined with individual donations from Mike and Betsy Blair, Javier and Yngrid Chacon, Andy and Bridgette Davis, Joseph and Katharine Lagedrost, Dan and Lisa Oberer, and Charles and Jerelen Ohrt. Grants from the N.C. Clean Water Management Trust Fund and Conservation Trust for North Carolina's Mountain Mini-Grant Program completed the project's matching funding.
Since 1995, Foothills Conservancy has protected more than 49,500 acres, including lands added to South Mountains, Lake James and Chimney Rock state parks; Wilson Creek, South Mountains and the Johns River state game lands; Pisgah National Forest and the Blue Ridge Parkway. The land trust also assists landowners who wish to permanently conserve privately owned farm and forest lands with conservation agreements.
Founded in 2012, Fonta Flora Brewery in Morganton, NC integrates the soul of agriculture with the artisanship of zymurgy to create a menagerie of rustic and savory libations. With an emphasis on seasonal flora, Fonta Flora brings English tradition and Belgian inspiration to the Appalachian mountains of North Carolina. Fonta Flora utilizes local artists to help conceptualize the notion that fermentation is yet another medium for creating art. This uniquely artisan approach to beer yields a sustainable product filled with culture from our very own community.
Attention All Chamber Members: Looking for Summer Help? 
The Burke County Public Schools may be able to help. The 2016 Summer Internship Program is      win-win effort for students and employers alike. Career Counselors in the schools are now accepting applications from students for the program. Jamie Norton — Career Development Coordinator, Instructional Management Coordinator, and Internship Coordinator — said the schools are eager to work with any area business planning to hire seasonal positions this coming summer, ranging from routine general duties to internships related to a student's career interest. She added that some students may even receive academic credit for the work. For more information, please call Jamie at Draughn High School at (828) 879-4311.
Easter Egg Hunt Set for Sunday in Valdese
American
Legion Post 234 in Valdese will hold the Ruth and Henry Bounous Memorial Easter Egg Hunt on Sunday, March 27, at
2:00 p.m.
Renamed in 2015 to honor the grandparents of American Legion Auxiliary past president Julie Bounous Huffman, the date this year marks the 70th year for the annual event. The event will take place at the American Legion building located at 709 Church St. in Valdese. It is free and open to all children through the fifth grade. Participants must bring their own baskets to collect eggs. Prizes will be awarded by age group. Call the American Legion at
828-879-8989
after
1:00 p.m.
daily for more information.
BRHC Foundation Receives $500,000 Grant from Duke Endowment
The Duke Endowment awarded the Blue Ridge HealthCare Foundation a $500,000 grant to develop a collaborative network of health care, through the Good Samaritan Clinic, for the uninsured whose incomes are between 100 percent and 200 percent of the federal poverty level. Funds from the grant will support individuals who incomes are too high to qualify for government-funded programs, but too low to enroll in the health insurance exchange. Patients who qualify can receive general medical care at the Good Samaritan Clinic. If their need exceeds the services offered by the clinic they will then be referred to a local network of medical practices that have volunteered to provide the additional care. Medical care provided to patients in the network will resemble that of those who have insurance. If needed they can receive specialty care, laboratory and radiology tests, among other services. Participants also receive medications at a discounted rate through the Good Samaritan Clinic. Eve, a current patient of the clinic, is one of those individuals. She first came to the clinic because of hip pain, which resulted in a decrease of her mobility. Tests revealed severe degenerative joint disease in both hips. Her only solution was hip replacement. After connecting her with a surgeon, the staff at the clinic was able to arrange for hip replacement surgery. Now
two months later
, she is scheduled for a second hip replacement and is very optimistic. Those who receive medical care in a primary care setting improve their overall health status, which leads to increased confidence and self-sufficiency, and decreases the use of the emergency room or inpatient care in the hospital setting. "The resources provided by the Duke Endowment will help our community organize a safety net for people who typically wait until their need is critical before receiving health care," says Will Cannon, president of the Board of Directors of Good Samaritan Clinic. "Promoting primary care for everyone in our community is not only the right thing to do…it's the wise thing to do."
McMahon's "Quilts for a Lifetime" on Display in Morganton City Hall
Come by Morganton City Hall and check out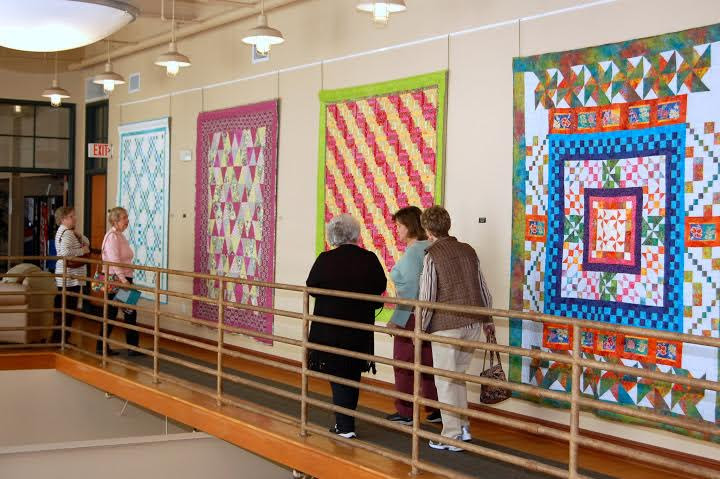 "Quilts for a Lifetime" by Suzanne McMahon. The show will be on display in March and April 2016. Suzanne is a teacher and artist who resides in Morganton, NC. She has been sewing unique and custom quilts using batik fabrics in a variety of styles including tropical, modern, festive, traditional, funk, and folk. Her musings began 28 years ago when she saved scraps and made quilts for her family. She enjoys mixing colors based on inspirations from different travels and adventures. It gives her great joy to create something original and unique with a certain person in mind who will treasure a quilt made with love for a lifetime.
Quilts in the show may be purchased from the artist. More information at www.morgantonnc.gov/art.
Grace Ridge Completes a Friendship Garden
A successful fundraising effort culminated with a recent groundbreaking of Grace Ridge Retirement Community's Friendship Garden, located between the memorycare and assisted-living facilities. "Nature elements like plants, sunshine, water, flowers and birds all help improve our sense of well-being and put us in a good mood. We wanted this area to be inviting for residents and their family members and friends to relax, visit and enjoy the outdoors," said Grace Ridge Executive Director Brenda Yost. The initial phase of the project began in August 2014, with the widening the walkway and the addition of a koi pond given to Grace Ridge by resident J. Conley Mitchell to honor his brother and fellow resident, Harold. The Friendship Garden was designed by Appalachian Nature Escapes to support the mountain-lodge feel of Grace Ridge. Outcroppings will be built with harvested boulders made of Virginia fieldstone, and featured plants and flowers include maple, conifer, azalea, camellia and hydrangea.
Some Seats Remain for Beer, Barbeque and Whisky Tour
The Ridgeline Trolley tour will cover Fonta Flora Brewery, Brown Mountain Bottleworks, Blue Ridge Distilling (Defiant whisky) and JD's Smokehouse in tours running
April 2
, 9, 16 and 23.  For more information or to reserve seats, call
(828) 437-3021
.
"We are excited about all the ways NC Beer Month is connecting the craftsmanship of our breweries with the dining and recreational wealth across the state," said Margo Knight Metzger, executive director of the North Carolina Craft Brewers Guild. "We call North Carolina the 'state of Southern beer,' and the beer alone is reason to visit. Combined with everything else, North Carolina is a must-visit state for beer travel." Find scores of April events and travel deals at NCBeerMonth.com.
Buckled up on the bus
Pilot program brings seat belts to seven BCPS buses
The 2016-17 school year will bring clicking sounds to new yellow buses in the Burke County Public Schools fleet. N.C. Department of Public Instruction Transportation Services has accepted Burke County into a pilot program to equip buses with seat belts. Burke will have seven new yellow buses outfitted with lap/shoulder belts by the start of the new school year.
Transportation officials said the goal of the voluntary pilot project, which includes 14 other school districts, is to help policy-makers evaluate future, widespread use of seat belts on North Carolina public school buses.
Burke County Public Schools Superintendent Larry Putnam said, "We jumped at the opportunity to be a part of this new initiative because this is a big deal. In keeping student safety at the forefront of all that we do, we want to be on the front end of this new movement as it progresses across the state. While school buses are safe and durable, they tend to be top heavy and are more apt to roll over. In the rare instance that a bus is involved in a roll-over accident, the seat belts will keep students from being tossed around."
The seat belts will add up to $12,000 to the $83,000 price tag of a new bus; the state is picking up the tab for the equipment upgrade. To be part of the pilot program, Burke County Public Schools had to agree to several stipulations, including guarantee the belts will be used, train students two times a year on their use, designate school staff members to help ensure the students are buckled up in the afternoon before the bus leaves the school and train bus drivers.
In addition to student safety, one benefit for bus drivers is they may see a reduction in student discipline issues. Students will be required to buckle up and stay buckled up until they exit the bus.
The seat belts will offer flexible seating and accommodate three small students or two large students. The Burke County Public Schools Transportation Department is in the process of determining which routes the new seat-belt-equipped buses will run for the upcoming school year.
Accentuating the Positive..
Governor's School Selects BCPS Students
– The Burke County Academically and Intellectually Gifted Department is proud to announce that the following
students have been accepted to the 2016 North Carolina Governor's School: Carl D Hennessee, Choral Music (Bass), Freedom High School;Alexander R Haire, English, East Burke High
 School (left); Hannah M Seagle , Math, Patton High School (center);The students will spend five-and-a-half weeks at Governor's School as they explore their field of curriculum focus in the residential program. The program is open to rising seniors and is located at two campuses, one in Winston-Salem and one in Raleigh. Only 650 students from across the state are selected each year for the program.
Student's Woodwork in Art Exhibit — Patton High School student Garen Mull has a piece of woodwork in the Burke Arts Council's 11th annual Woodworker's Exhibition at the Jailhouse Gallery. Mull is one of six students in the exhibit and takes a woodworking class at Western Piedmont Community College through the Career and College Promise program. Garen is pictured with his work and instructor John Ferguson.
Chesterfield Students Attend Ribbon Cutting — Chesterfield Elementary School students cut the ribbon on a new History Museum of Burke County exhibit. The exhibit is called "Burke County Courthouse to the White House" and features memorabilia from Jimmy Warlick's collections. Warlick is a former Chesterfield student and financial donor to the school, supporting field trips, books, blankets, food for a backpack program and Macbooks. Warlick owns White House Gifts, a Washington, DC store that specializes in political memorabilia and unique gifts. The museum exhibit includes presidential memorabilia from a Jackie Kennedy dress and bathing suit, to political buttons and campaign slogans.
WJMS Holds Career Fair
— Walter Johnson Middle School
hosted its annual career fair on March 17. Career professionals from both public and private sectors attended the fair and gave students a glimpse into their workdays. The sixth, seventh and eighth graders visited the various booths and talked with the professionals in the fields that interested them. They included law enforcement, healthcare, cosmetology, STEM related fields and culinary arts. Industry representatives present included Continental and Valdese Weavers; Carolinas HealthCare System Blue Ridge had several booths; local veterinarian and Burke County Board of Education Member Dr. Don Hemstreet was there with his golden retriever, Chester, and goat, Moose; Burke County Public Schools public relations and counselors departments shared about school system jobs and guests included Superintendent Larry Putnam, Assistant Superintendent David Fonseca and Director of Secondary Education and Career and Technical Education Rexanna Lowman.
Students Compete in Archery Tournament — Burke County Public Schools elementary archery students recently competed 2016 NC statewide NASP Virtual Tournament. Salem Elementary School had the No. 1 and No. 5 ranked teams in the tournament. George Hildebrand placed fourth, Glen Alpine seventh, W. A. Young eighth and 12th, Oak Hill ninth, Rutherford College 10th, Valdese 11th and Icard 13th. The top ranked male and female archers in the state are both from Salem,
Catawba Regional Hospice Volunteers Complete Training
Catawba Regional Hospice recently welcomed 26 new volunteers to touch the lives of patients and families in local communities. Their training was held Saturday, February 20 and Monday, February 22, 2016, at Catawba Regional Hospice's Newton campus. 
The training class included 21 Catawba County residents, four Caldwell County residents, and one resident of Burke County. Six members of the new class are VolunTeens, between the ages of 14 and 18. They will all help enhance the care provided to local people throughout CRH's 10-county service area.
Volunteers are valued members of the care team, offering needed support for patients at the end of life as well as for the patients' families. After completing the class, volunteers will offer administrative support, provide respite for caregivers, serve as companions for patients, and help in other meaningful ways.
For more information on joining the next volunteer training class, contact the CRH volunteer department at 
828.466.0466
, by emailing 
volunteer@pchcv.org
, or via Facebook.
All returning guests zip for $39 each!
During the Month of March
Zip Season is here!
The spring birds are singing and the zips are soaring!
Call and mention you are a return guests and save $20 off each persons zip. Minimum 2 guests required.
Zip for Only
$39 each
Reservations Required
Month of March only
32nd Annual Golf Classic
SAVE THE DATE
Mimosa Hills